With over 3.5 billion users worldwide, social media is a powerful tool that can help to propel your brand positioning and reach a whole plethora of new audiences you might not reach with other methods alone. By employing a comprehensive, targeted strategy, you can take a multi-channel approach with social media alongside other marketing avenues to help you reach your event goals.
It's one thing running an event that delegates enjoy, but ultimately the event needs to drive your business objectives forward. In this piece, we discuss some key B2B event objectives and share some guidance around using social media to achieve those objectives before, during and after your event.
When planning a B2B event, it's essential to have an in-depth understanding of your audience and what exactly you're trying to achieve. Some questions to bear in mind include:
Who exactly are you trying to reach? And who do you need to include in the event strategy/objective ideation process (ie stakeholders)?
Why are you running this event for those businesses?
What will both you and your audience gain from this event?
How will you produce content for the event that will feed into helping you achieve your objectives? What opportunities can you leverage to maximise engagement, such as through partnerships?
Which measurements and KPIs will help you evaluate if your event was successful or not?
How will you produce content for the event that will feed into helping you achieve your objectives?
Once you've nailed down who you're trying to reach and why, this will feed into the type of event you decide to run, such as a client event to maintain relationships, or maybe a conference to showcase new products or services.
It's important to consider your audience's needs and expectations and select an event type that will best suit their needs, eg considering your audience demographic and perhaps selecting a virtual or hybrid format rather than solely in-person.
Your event marketing strategy needs to be seamlessly aligned with your event objectives, so it's really important to get those set in stone first so everyone knows what they're working towards and how you can best target and attract your leads as a business.
Once you've decided on your objectives and worked out an event format, it's time to work out the marketing channels you want to use, including social media, in order to be as impactful as possible in securing your target audience.
Every event is different, so we've outlined below how you might go about leveraging social media marketing for 3 key different event objectives and formats.
When launching events for customer retention or relationship building, you'll want to focus your marketing efforts on your existing audiences and look for ways you can engage them with your brand, before, during, and after the event. We've laid out some tactics below on how you can do this.
Customer Retention: Pre-Event Tactics
Pre-event you'll want to be driving as much of your customer base to the event, but also consider ways those unable to attend can benefit from your programme.
1. Create campaigns

Devise a re-engagement campaign and reach out to past attendees to promote the event to them. You could do this by messaging them on Linkedin to personally invite them with personalised messages and or by creating branded visuals to share across other social platforms, with language such as 'We're back!' to attract past event attendees.
2. Share relevant content that customers want to see
Content is likely to be the key driver for repeat attendees, so you could share visual representations of details around your event, such as speaker and session announcements. If your content is of a consistently high standard year after year, your attendees will develop brand loyalty and find genuine value from attending your events.


Share past content and exciting moments from the last event on social media such as videos and pictures of the best moments, or quotes from key speakers. This will create a sense of anticipation and excitement around the event, and remind attendees of the value they can get from attending again. For example, Hire Space often shares snippets of our annual exhibition and conference, EventLAB, on social media to encourage sign-ups and to stoke anticipation for the next instalment.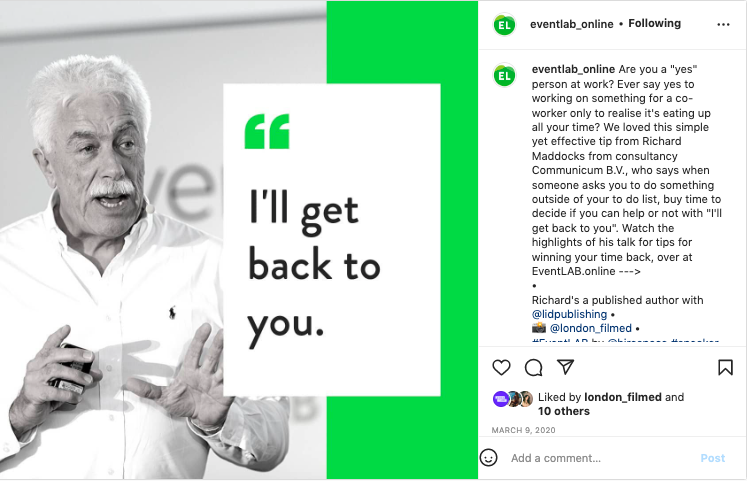 We also like how AWS reminds attendees of the value of attending their summit and evokes a sense of passion for their field.
As well as event-specific content, it's also important to share content related to your brand (though there is such a thing as too much self-promotion, so make sure it's relevant to the event and your audience). This will help position you as a thought leader in your industry and as a useful resource for information, which will help to promote customer loyalty. For example,

Wanderlust Festival

uses a Pinterest board to share inspirational content around yoga and wellness for their customer base.
3. Foster a sense of customer community


Create a 'group' on Linkedin to create a community feel and invite all past attendees. Share event details, but also post conversation starters on a certain topic to get people discussing. This group could also act as a networking tool for those who came last time and may encourage them to make plans to converse at your next event.



Ask your followers via polls and surveys what they want to see from your events, and engage them in the conversation on all social platforms. They'll feel like the event was almost curated just for them, which will strengthen loyalty and trust in your brand.
Customer Retention: During Event Tactics
During your event, you'll want to ensure you're giving your attendees the best possible experience, so that when they leave your event they're even more invested in your brand and remain loyal to you. Here's how.
1. Make time for your followers
As well as being a presence throughout the event, always make time to like, retweet, share, respond, and follow attendees who share moments from the event on their own social media channels. This will make them feel heard and valued by your brand on the day but is equally important to continue doing so before and after the event too.

It's also a great way to turn user-generated material into promotional material to garner interest and excitement in fellow attendees - after all, guests will be seeing the event through different eyes and you can learn a lot about your audience's interests through what they share with their own followers.


If attendees have questions for speakers during sessions and you open the floor to take them on social media, make sure you note them down and pass them on to the speakers so their questions get answered. If you're running a hybrid or virtual event, ensure your virtual event platform has the capability for online attendees to submit questions through the platform. Doing this will make people feel heard and encourage them to engage further with the event.
2. Engage non-attendees
Share quotes, photos, and clips from sessions as they happen and tag speakers and companies so that non-attendees can still benefit from those individuals they may be interested in learning more about.


Make them feel included still by asking them what they want to see from the event, such as key takeaways or behind-the-scenes content to 'pull back the curtain' on your brand and let them get to know you better.
3. Harness the power of user-generated content

Run a competition or campaign for attendees to generate their own content. This could be tasking attendees to take the funniest photo in your photo booth, score the most points on a game at the event, or whatever you like! Ask attendees to post their entries on social media and make sure you create a punchy hashtag that you display throughout the event that people use when posting about your event. Make it short, easy to spell, and unique.

For example, Apple used a hashtag titled #ShotOnIPhone for their user-generated content

campaign

. Whilst this hashtag isn't necessarily very catchy, it was certainly effective - there are currently 20 million posts using this hashtag on Instagram alone.

Once people start posting, you'll then have a whole bank of user-generated content, which can significantly enhance your brand awareness and re-enforce popularity among your customers, as well as entice new prospects to get involved.

To encourage engagement without running a competition, you'll need to create a fantastic experience for your audience and something they can truly engage with. For example,

Refinery 29

created this colourful brand activation at their event, which drove lots of buzz around the event, as well as lots of UGC which did wonders for their brand awareness. We also loved the '

Twitter Beach

' activation by Twitter at a marketing festival in Cannes, and the

Taco Bell Snapchat filter

! There are endless ways to engage your audience and encourage user-generated content, it just takes some imagination.

We've written a whole

guide to experiential marketing

, where we've shared more of our insights around nailing this.
Customer Retention: Post-Event Tactics
Your attendees could have had the most incredible time at your event, but if you don't harness this post-event and leverage the opportunities you worked so hard to generate, your audience may forget about you and your event will have been for nothing. Here are some tactics for retaining that excitement.
Thank your attendees for coming and if possible, share a pre-registration link for the next event while it's still fresh in their minds, like IMEX have below, just after their Frankfurt event. This will be more effective when they've just had a great time at your event vs 6 months later.
Registration for IMEX America is open!

Whether you're a meeting planner, head of an event agency, an association executive, a business owner, an incentive travel buyer or an in-house event expert, IMEX has something for you.

Register now: https://t.co/eO6LoHZiel pic.twitter.com/0n0glPOoIm

— IMEX (@IMEX_Group) July 12, 2022
Interaction with customers will help strengthen relationships, so make sure you're consistently touching base with them on social media or posting content they engage with. To do this, you could pick a handful of key customers, talk to them about their pain points during the event and then respond by posting content around those pain points. This will instill a great sense of brand loyalty and make them feel listened to.


Create writeups of the key takeaways of the event and share it on social media so that your customers can refer back to it at any time. This helps extend the life of your event

and provides them with a useful resource to refer to.
Hire Space Top Tip:
For more ideas on how you can leverage your event content to continue to provide value for months and years after your event, check out our in-depth guide!
Events can be a powerful revenue stream for your business, and there are a variety of ways to monetise your event in order to generate this revenue. Whilst it's important to focus your efforts on money-making tactics, it's crucial to ensure you're still providing your delegates with a valuable experience. We've laid out some tactics below on how you can do this.
Revenue Generation: Pre-Event Tactics
You'll want to plan your event in a way that generates as much revenue for you as possible, whether that's through monetising the event itself or through sales generated as a result of the event. Here are some ideas!
1. Develop a comprehensive revenue objective

It's important that you construct a clear objective for your revenue generation, and then work back to determine how you will go about reaching that objective. For example, if you're wanting to generate long-term results, achieving sales off the back of your event is a great revenue objective to focus on.
These sales are important because they not only earn you good revenue and build your customer base, but they demonstrate the impact of your event efforts and prove ROI more long-term, especially to stakeholders who might need a little more convincing on using events as a revenue stream. In this way, you are using events as a marketing channel, and the event is simply complementing and helping you achieve your overall business goals and objectives, rather than acting as its own product.
If you wanted to focus on more tangible, short-term, direct revenue from the event, monetising your event could be a good way to go, such as through delegate sales, sponsorships, underwriting opportunities, etc.. Use social media to your advantage too and advertise your event through a number of channels, with the aim of generating ticket sales and earning revenue.
Hire Space Top Tip:
You could also utilise social media as a product included in your sponsorship packages - 4 branded dedicated posts for a gold sponsor, for example, providing you with another way of monetising through social media.
2. Offer discount codes

If monetisation is most important to you, you could offer exclusive discount codes for your social media followers to encourage sign-ups for ticketed events, such as 10% off the ticket cost. This is a nice incentive for your customer base and is also useful for you to be able to directly track the effectiveness of your social media campaigns in generating registrations. We recommend offering a unique code for each social channel so that you can see exactly which platform had the most impact in generating registrations, eg TWITTER10 or LINKEDIN10
3. Stress urgency

It's also a good idea to use emotive language to stress urgency, like in the example below. For example, a caption could be 'Only 10 spaces left - register now to avoid disappointment!', in the way that this page is using urgency to encourage followers to vote for them for an award.
International Confex uses urgency in their posts too, but we love how they create unique and engaging ways of encouraging sign-ups in more subtle ways.
If people feel like they're missing out on something, they're much more likely to want to take action. Encourage attendees who have bought tickets to post on their channels about having got their ticket locked in. This will encourage others to get theirs!
4. Leverage sponsorship as a revenue stream

If you don't want to charge for tickets, sponsorship is a fantastic way to monetise your event. These partnerships can be extremely mutually beneficial for a number of reasons: lead generation and brand awareness for the sponsor, an incentive for attendees to register for networking purposes and business opportunities, and of course, a valuable revenue stream for you.
Create tiered sponsorship packages and share an infographic on social media to advertise and inform readers of the different tiers to encourage sponsors with varying budgets to come on board. Sponsoring companies all need to be relevant and valuable to you in some way though, so bear that in mind when approaching/being approached by companies who want to sponsor your event.
Take advantage of the opportunities that come with having big-name sponsors on board - shout about your partnerships on social media and watch the registrations roll in! For example, you could create branded visuals with your sponsor logos to share, you could share information about what the sponsor will be doing at the event (if they're hosting content, etc), and you could create a beautiful showreel of your sponsoring companies to generate interest, and you could even share a pre-event interview with one of your top-name sponsors to create excitement, as a kind of 'sponsor spotlight' feature.
5. Shout about your content

You've probably spent a long time curating your event content, so shout about it! The better your content is and the more people that know about it, the more attendees you will get and the more revenue you'll make through ticket sales. You'll also be able to charge for this content post-event, as well as attract potential leads and having the opportunity to convert this into sales off the back of the event's content.
Revenue Generation: During Event Tactics
Whether you're planning to generate revenue onsite through things like merchandise sales, food and beverages, selling exhibition space or ticketing, or your sole aim is to generate sales from the event, you need to focus on how you can best leverage your onsite presence in order to create a fantastic experience and generate as much revenue as possible.
1. Don't underestimate the power of an incredible experience

Give your attendees an exciting and memorable experience and you will naturally generate more interest long term, which could convert into worthwhile leads and ultimately, sales. This could be through fun activities at the event, great content with big name speakers, a fantastic venue and a well-organised start-to-finish experience that leaves people feeling inspired and motivated.
Make sure it's easy for attendees to share content on social during the event - it sounds silly but good, free wifi and easy to see hashtags posted around the space will help prompt delegates to post about their experience at the event as they experience it.
Giving attendees a good experience could mean they're more likely to buy from you, and will also encourage them to attend future events, practically guaranteeing you revenue each time. They will also be more likely to recommend you to their peers, generating new potential leads for you too.
Consider running a competition throughout the event or in certain areas of the event such as exhibition stands. Encourage attendees to post their entries to the competition on social media, tagging you and using your event hashtag. This will help grow your follower base and will give you the opportunity to promote your products and services to your new following after the event, achieving your objective of generating new revenue off the back of the event.
2. Give sponsors as much exposure as possible

Consider creating a hub for sponsors during the event where they can book meetings with delegates and demonstrate their own products and services. You should shout about this on social media for sure - it might make the difference between people not wanting to come to your event and suddenly being desperate to come!
Sponsors could even host a part of the event, such as an exclusive pre-event breakfast, networking drinks reception, or some of the event content stages or sessions. They could also donate giveaways or prizes for competitions, again providing social media content and incentivising sign-ups.
Even if they're not huge companies, mentioning them on social media is great for their brand awareness, and sheds light on the types of companies you like to partner with, telling your followers a bit more about your company values. These sponsor posts also serve as teasers for your event and will build some excitement, so it's a no-brainer.
Revenue Generation: Post Event Tactics
Your event doesn't end when your delegates go home, there are lots of ways you can extend the life of your event and boost your event revenue, from content to data.
1. Use a paywall for content

Your content will no doubt be thoroughly enjoyed by your audience present at the event, but what about those who couldn't make your event, or attendees who found it so useful they want to refer back to it?
By recording your content, you can use it post-event as a valuable revenue stream for months or even years after your event. You could put your content behind a pay wall, drum up some excitement on social media about how great the content is, and charge a small amount for timed access. For attendees, you could charge less or make it free of charge, but for non-attendees you can definitely charge for your content.
2. Provide ROI reports to sponsors

By providing in-depth data reports, including social media data, for your sponsors and partners, you're providing them with invaluable information at little or no cost to you except maybe some of your time.
By providing a great experience for your partners, you're paving the way for the same sponsors or even higher target companies to sponsor future events. If you provide them with a valuable, slick experience, they'll be more likely to want to get involved long term.
Examples of social media metrics you could include are impressions, click-through rates, and engagement rates. The below is a very basic example of what a social media report could look like, but there are plenty of templates online if you're not sure what to include or how to build your own.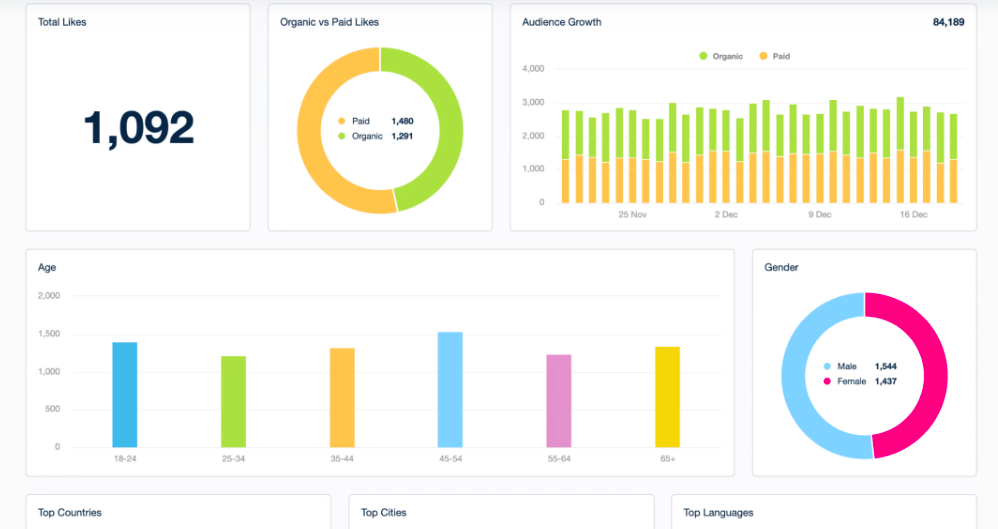 Take the initiative and reach out to delegates

Get in touch with delegates after the event and reopen conversations from the event. Suggest a coffee, or lunch, and invest time in them to nurture them towards potentially becoming a customer. Cement yourself as a valuable contact and try to resolve their pain points with your solutions. You never know where it could lead to!
When it comes to customers, you'll need to focus on retaining your existing audience but it's also incredibly important for you to focus on appealing to new audiences too.
For some tactics on customer retention, check out our section above, as many of these same strategies will apply to both existing and new audiences. For specific tactics for building new audiences, read on below.
New Lead Generation: Pre-Event Tactics
When thinking about generating new audiences, there are certain things you'll need to focus on during the lead-up to your event. Here are some of our tactics to get you started.
1. Build your channels to attract the right audience
To use social media effectively to generate new leads, you'll need to ensure you're attracting the right audience in the first place. Spend time building your social media channels and sharing relevant content to attract your target customer base.

Work with industry experts and thought leaders to spread awareness of your brand and position yourself in front of the people you need to reach. According to the International Data Corporation (IDC), 75% of B2B buyers have incorporated the use of social media as a key strategy in their business-related decision-making processes, so it's clear that social media is a tactic that works for lead generation.


Collaborate with influencers to promote your event and brand, but also to leverage user-generated content. They will help to draw attention to your event and generate new attendees and prospects in the process. This post is a great example of inviting an individual who has established themselves as an 'influencer' within their industry to speak at an event, and in doing so building brand awareness and encouraging signups.
Scour through your social media following and identify prospective attendees based on a number of metrics, such as content they engage with. If relevant, you can then reach out personally to invite them to join you. Even if they can't make the event, you've reached out to them and opened up a conversation with a new potential lead you didn't have before.


Create a structured social media plan so you're consistently posting and growing in impressions and reach. Don't post too much though! We like

this piece

from Hootsuite on how often you should be posting on your business social accounts. Refer to the section below for ideas on what kinds of content to post on each platform, too.
2. Shed light on your brand values

Share case studies and content around important discussions like sustainability, diversity and inclusion, accessibility, and other insights from your brand on how you try to achieve your goals around corporate social responsibility. This benefit is twofold - you'll be promoting a socially conscious event whilst simultaneously communicating your expectations of attendees and demonstrating your brand values to them.
IMEX demonstrates this perfectly, sharing a sustainability report from their 2021 Americas event:
Hire Space also shared a case study around how we made EventLAB 2021 as sustainable as possible, which we of course shared on our channels too.
3. Utilise past events to generate interest

Share exciting moments from the last event, such as videos and pictures of the best moments and key content topics. This will create a sense of anticipation and excitement around the upcoming event, and show potential attendees of the value they can get from attending. Once you've got people interested enough to come to your event, you're one step closer to converting them as customers (as long as the event is successful and leaves a good impression!).
We like the way AWS shares slick branded visuals to entice new attendees year after year:
IMEX is also great at creating visuals that depict a sense of excitement for their events and give a sense of the atmosphere. Check out this emotive post, which not only depicts the atmosphere but uses emotive language to encourage signing up.
4. Share exclusive details to build the buzz

Share speaker lineups and session announcements, and make sure you get some good speakers too! Great speakers will always entice attendees to attend, but share these details in a creative way, such as teaser videos and images, or countdowns. Read our piece on leveraging your event content for more pointers.
Share posts about lots of different aspects of your event, such as the different suppliers you're using and the type of experiences they can expect. If you've got some fun activities or food-based suppliers at the event, shout about them! People love to know what they're in for and they'll be more excited to attend.
Hire Space Top Tip:
Start conversations and share content around key topics you'll be covering at your event, including common pain points relevant to them, so that potential leads can see exactly what they can expect from your event.
5. Use networking as a draw for attendance
If you can show potential attendees that your event will bring them true value, they'll be more likely to attend. This goes beyond content though - most of the time, attendees will go to an event because of the other people who attend. They want to meet like-minded people who they can connect with and drive forward their own goals. So, facilitate that!


Weave in plenty of networking opportunities during your event, encourage people to comment and interact with each other and create talking points to spark conversations. You could create a forum on your event app or social media ahead of the event to start creating a community and get people talking to each other and connecting, on platforms like Linkedin. Then, when attendees finally meet in person, they'll have ready-made networking opportunities.
Hire Space Top Tip:
It's also important for you to network with them - after all, you're trying to foster new leads, so talk to them, actively engage with them, show them what you can offer them and nurture those connections well past the event too. This goes for social media too - always engage with people who engage with you, as well as looking out for new opportunities and conversations you can get involved in. Social listening is your best friend!
6. Paid advertising on social media

At relatively little cost to you, paid ads will spread the word about your event and brand, and will help generate interest and registrations. By making them super targeted to your exact audience target, you'll be able to get in front of the people you really want to, effortlessly.
New Lead Generation: During Event Tactics
Your event is your chance to show off what you can do, what your brand is all about, and how you can be of value to potential customers. Go all out, shout about your event and let them see why they should work with you.
1. Be online - always!
Be a social media presence and capture as much as you can, and post on the go. This will include and engage people who aren't at your event, and also will build the buzz for attendees at the event itself, say if you're running a competition or sharing more information about speakers they found interesting.

This creates a talking point too, and can act as a conversation starter for contacts you're particularly interested in targeting whose eyes you've caught through your social media content.
Be a point of contact on social media if attendees need a quick response and they can't find anyone on the show floor, or if its a hybrid/virtual event. Be responsive and react to comments and messages, and this will help strengthen brand trust and nurture relationships. If a new delegate needs help which you provide straightaway and in an efficient, professional manner, they're more likely to be open to engaging with you down the track.


When creating your posting schedule, focus on transition times such as breaks, lunch, in-between sessions, and before the drinks reception. This will mean you get in front of your delegates when they have some downtime and are likely to be scrolling on their feeds.
2. Allow real-time participation

Live stream your events to your social channels so people can share and react in real-time to your content. This will increase your reach and hopefully will catch the eye of some useful prospects!
Many companies stream their content to social media, including Hire Space for our very own series of virtual and hybrid events as you can see below! For more information on creating a successful hybrid event, check our our ultimate guide. You can also check out this piece on up-and-coming event technology for some inspiration on how to further engage your virtual attendees.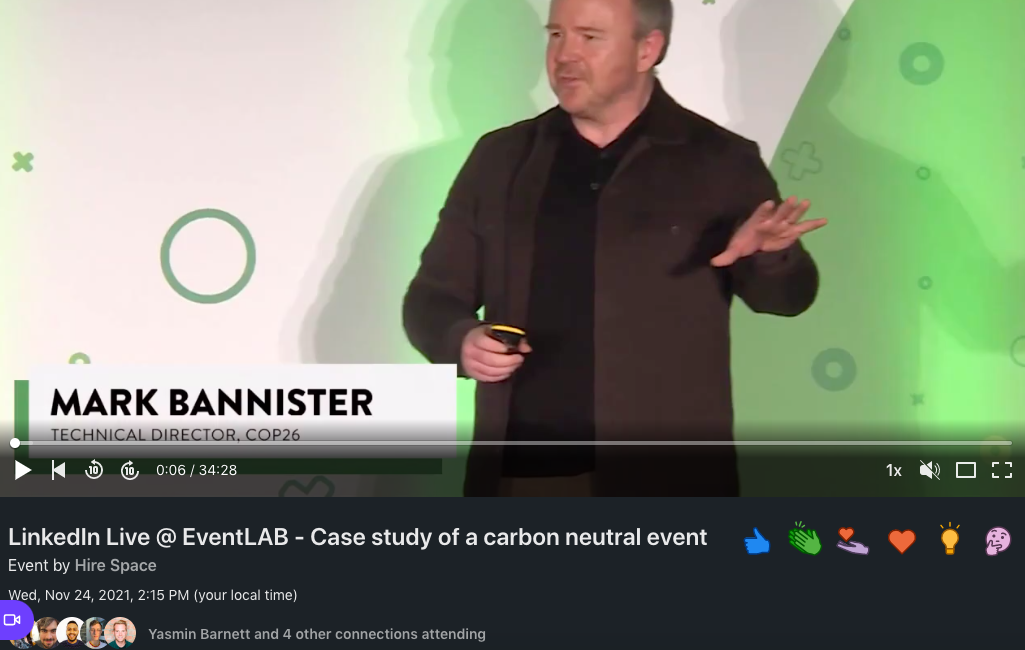 You can also connect your social channels with your event app so people can join in with a live feed and see the posts you're posting so they can easily engage with them through the app. Again, just cementing that touch point and maintaining communication as much as possible.
3. Create a social media feature

Install a social media wall or some kind of feature at your event that will allow people to utilise their own social media, creating perfect user-generated content with little effort.
You could create an exciting activation, hire a photobooth, or even create a social media digital 'wall' where attendees can post to their social channels and the posts come through onto a screen at the event.
Not only is this a talking point at the event, but it will pique the interest of others when they see it on their social media feeds and could start interesting conversations with potential leads. Check out these amazing brand activation examples that you could adopt principles from for your own events.
4. Scan delegate badges after every conversation

This may seem obvious, but having a delegate's details at your fingertips is an invaluable way to ensure you can easily get in touch with them and nurture them into warm leads. Scan their badge after each valuable conversation, as sponsors/exhibitors do, so you have a whole database of potential leads after the event.
New Lead Generation: Post Event Tactics
Use your content to your advantage and shout about your event (and brand) on social media! You could use paid ads, content snippets, delegate feedback, the list is endless for the ways in which you can generate new leads off the back of your event.
1. Ask delegates for feedback on social media
Doing this will help you garner valuable insights to improve your event for next time and maximise your lead-generation potential from actual leads! It will also make them feel valued and heard and keep the conversation going after the event has ended.


While you've got their attention, share a pre-registration sign-up link for your next event before the excitement wears off. This will encourage attendees who enjoyed the event to come and engage with you on another occasion, which is invaluable for lead generation. It will also encourage people who couldn't make it to the event this time, but saw all your fantastic social content, to sign up in future.


Share testimonials about your brand, events, or services to offer proof to leads that you're worth working with.
2. Start conversations sparked from popular topics at the event
You could also direct message leads and use content from the event as an opener, eg 'It was great to catch up with you after that session, how did you find the rest of the event?' Make it super personal and remember things they told you! This will ensure attendees keep your brand front of mind and they will feel that they can engage with you on a more personal level.


Create post-event summaries of key takeaways and send to all attendees, as well as post on your social channels to promote conversation and resharing.


Create a list of attendees who were active on social media with regards to your event, eg retweeting or tagging you. This will act as a prospecting tool for your next event.
3. Allow attendees to relive your event

You could post a video from the event to re-engage attendees and show people who couldn't make it what's in store at one of your events. Tomorrowland does this really well, and instantly gives people the desire to go to the next one! AWS is also great at creating visually-appealing videos and images to attract people to watch content they may have missed, sparking their interest and hopefully converting them to attend next time.
4. Post social media-exclusive offers

Incentivise sign-ups for the next event straightaway by offering offers such as discounted tickets, early bird offers, prize draws, or vouchers. Use different codes for each channel so you can measure the impact of your campaigns.
5. Show them some stats

You'll gain so much data from your event that it's only right to share it, right? You can share key stats as snackable pieces of interesting content that are shareable and can act as talking points for picking up conversations with potential leads created at the event.
We've talked about event objectives and tactics for helping drive your objectives forward, but we also thought we'd shed some light on social media channels themselves. The key channels are very different from each other and so your strategy will need to be tailored for each one. Here's some guidance on the type of posts that work well for promoting events on each channel below.
Linkedin

Linkedin is useful for industry and B2B networking, which can help you approach your specific target audience. Tagging speakers and companies will encourage them to share it on their own feeds and networks, and subsequently is useful for expanding reach. People will be more likely to sign up if people in their networks are attending/participating, which may also work in your favour if you wanted to message potential attendees through Linkedin's direct messaging app - eg 'So and so is attending, will you be there?'.
You could also tap into Linkedin communities relevant to your field to spread the word further and encourage registration (just make sure you check the group's posting rules as some forbid explicit self-promotion). Additionally, you can stream content sessions live through Linkedin, so this would be a really useful tool for attendees who can't make the event to still be involved, or to spread awareness of your content to new audiences who may not have seen the event was taking place.
What to post:
Visuals, infographics, short-form content, articles, industry news/views, case studies/testimonials about last year's event
Facebook

Facebook is a useful tool for event marketing, and there are a few ways you can make the most of it to encourage attendees to sign up. Facebook Event pages are perhaps the platform's most useful tool, as they are completely customisable and also link through to attendees' smartphones, sending reminder notifications.
Set up an Event with all the details and invite your target audience. You can post information and updates, engage your followers and target specific groups. We recommend posting your event in industry pages to spread the word too, as well as promoting the event page with paid Facebook ads to your target audience.
What to post:
Behind the scenes, create Facebook events, speaker announcements, trending topics, polls
Instagram

Instagram is great for 'behind the scenes' snackable content, mainly in the form of images and videos as Stories, Reels and Instagram Lives, which can really help generate engagement. Reels in particular have the propensity for wide-scale account reach, and mostly for non-following accounts thanks to Instagram's algorithm, so this can be a great way to reach new audiences and spread the word about the event before, during and after the event.
Instagram is also perfect for sharing speaker and session announcement visuals, as well as posts to help build the buzz, such as '1 week to go!' style posts.
What to post:
Stories, reels, short videos, behind the scenes content, onsite event content, instagram Lives
Twitter

Twitter is great for short, shareable content during your event such as images from around the event and quotes from sessions. This will help people who couldn't make the event feel part of it, making your event feel a bit more inclusive. You could even post key takeaways one-liner tweet after each session, providing your followers with a real-time update on what's being said.
Twitter also works well as a real-time tool for attendees - thanks to its short word count, you could post agenda information in a 'Session starting soon' format with the location and time. This makes it easy for attendees to browse on the go, and you could even link it to an event app if you're using one, which will come through as push notifications to attendees' phones. This will be helpful to your attendees and also ensures sessions are being attended by those who really want to absorb the content. Make sure to create a compelling event hashtag too, so you can build excitement before the event, as well as see all the tweets from your event and easily respond to them.
What to post:
Informative content, infographics, competitions, polls, quotes from speakers, onsite event photos
Hire Space Top Tip:
Always remember to include the registration link, or desired call to action, in every post!
And that's a wrap! We've explored three key event objectives you could consider for your B2B events, and delved into the individual social media tactics you could adapt before, during, and after your event to help drive forward those objectives.
Hopefully, this guide has helped you think about the different ways to harness the power of social media and inspired you to embrace it for marketing your own B2B events! For more information or guidance on marketing your events, utilising social media, or any aspect of the event planning process, we can help! Get in touch with our expert team below to find out how we can help you.